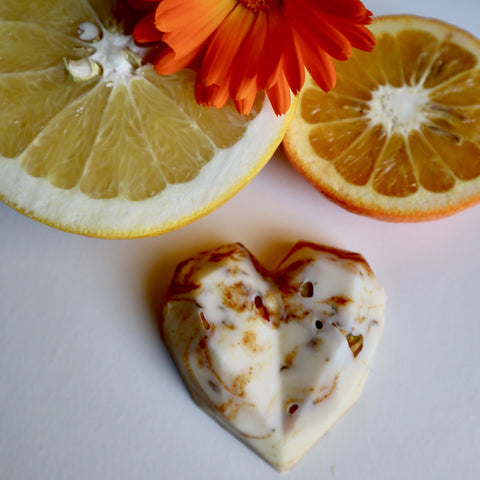 Limited Citrus Soap ( BitterOrange&Grapefruit)
Pickup currently unavailable
Seasonal Limited soaps with Bitter Orange & Grapefruit 2022 ( numbers are limited for sale).
Our fresh steam distilling bitter orange essential oil and grapefruit essential oil scented made with calendula flowers from our farm.
Marble colour made with turmeric and Victorian extra virgin olive oil.
Traditional cold press soap method, all made by hand and use all natural ingredients.
Beautiful colour from Tumeric powder that have anti-oxidant effect to your body.
No Artificial Colouring or Food Colouring

No Fragrance Oils or Synthetic Compounds

No Parabens, No Preservatives

No Sodium Lauryl Sulfate or Laureth Sulfate
Ingredients :  ⓥ
Organic Olive Oil (victoria olive farm),  Coconut oil (Australia), Shea Butter, Cocoa Butter, Australian Bitter orange E.O.  , Grapefruit E.O. , Calendula flower petals , Turmeric powder , Lye( Sodium Hydroxide)


*****For shipping just purchasing this soap****
If you just buying this soap, Please select shipping cost $3.30 until 4 soaps of weight we can send only $3.30 shipping costs. Thank you