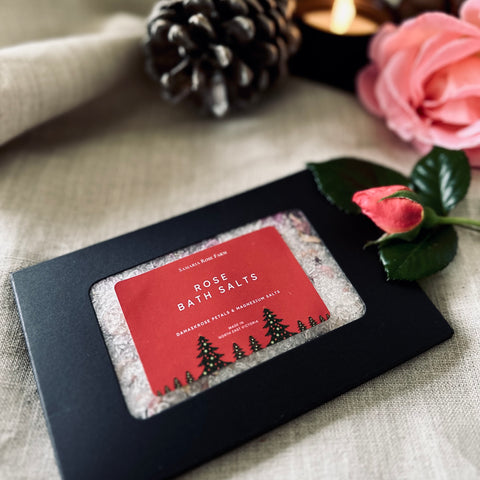 Rose Bath Salts
Pickup currently unavailable
Cleopatra's secrets beauty
90g 

"A Timeless Elixir from Samaria Rose Farm"

A secret from ancient Egypt, Queen Cleopatra's adoration for Rose was legendary.
Cleopatra was regularly bathing her face and body with authentic Rose Water.
She cherished its luxurious scent and soothing properties of rose,
making it an essential part of her beauty regimen.
Crafted from our meticulously sourced 2,500 damask rose field, these Rose bath salts blend organically-grown hand-picked and dried petals, magnesium salts, and Himalayan salts to deliver a deeply soothing and reviving spa-like experience. Add in our signature blend of luxurious essential oils and your bath time will be truly elevated to the realm of the divine.
Use : simply run a warm bath, then add in one or half of packet bath salts into the water and allow them to dissolve, mixing together if necessary. Then, all you have to do is step into your tub, submerge, and enjoy.
Ingredients : Damaskrose petals, magnasium salts, Himalayan salts, Essential oils of damask rose, Frankincense, Palmarosa, Rose geranium, Black Pepper